Online Concept and Mind Mapping
LinkFacts is a mind mapping Platform that lets you create, collaborate with others around large visual collections of information and knowledge.
Mindmapping Plateform
Social concept and Mind Mapping
---
LinkFacts brings a new dimension of concept mapping. It allows users to create mind maps, share and collaborate with others around visual collections of information and knowledge. Graphs can contain ideas, documents and links to web resources.
Create
You can easily create, customize graphs, reuse node and link styles.
Browser-based
No apps to download
Share & Collaborate
Follow users and collaborate in public user's graphs. Comment graphs or nodes. Rate graphs.
Team
Share graphs and collaborate with a Team to work together on a same project.
Add attributes & Links
Annotate your graph information and link to external information.
Export & Import Data
Export or import your graph data.
Create graphs to link ideas
LinkFacts is a powerful tool that helps you visualize your thoughts and communicate them to others.It also help you to link together ideas and information source.
Drag and drop your ideas
Use LInkFacts to bring your ideas to life by creating a visual organization of your thoughts so you can remember, identify correlations, and see the big picture.
Add external links
You can add notes, links to external websites, images, videos and entire files to your mind maps.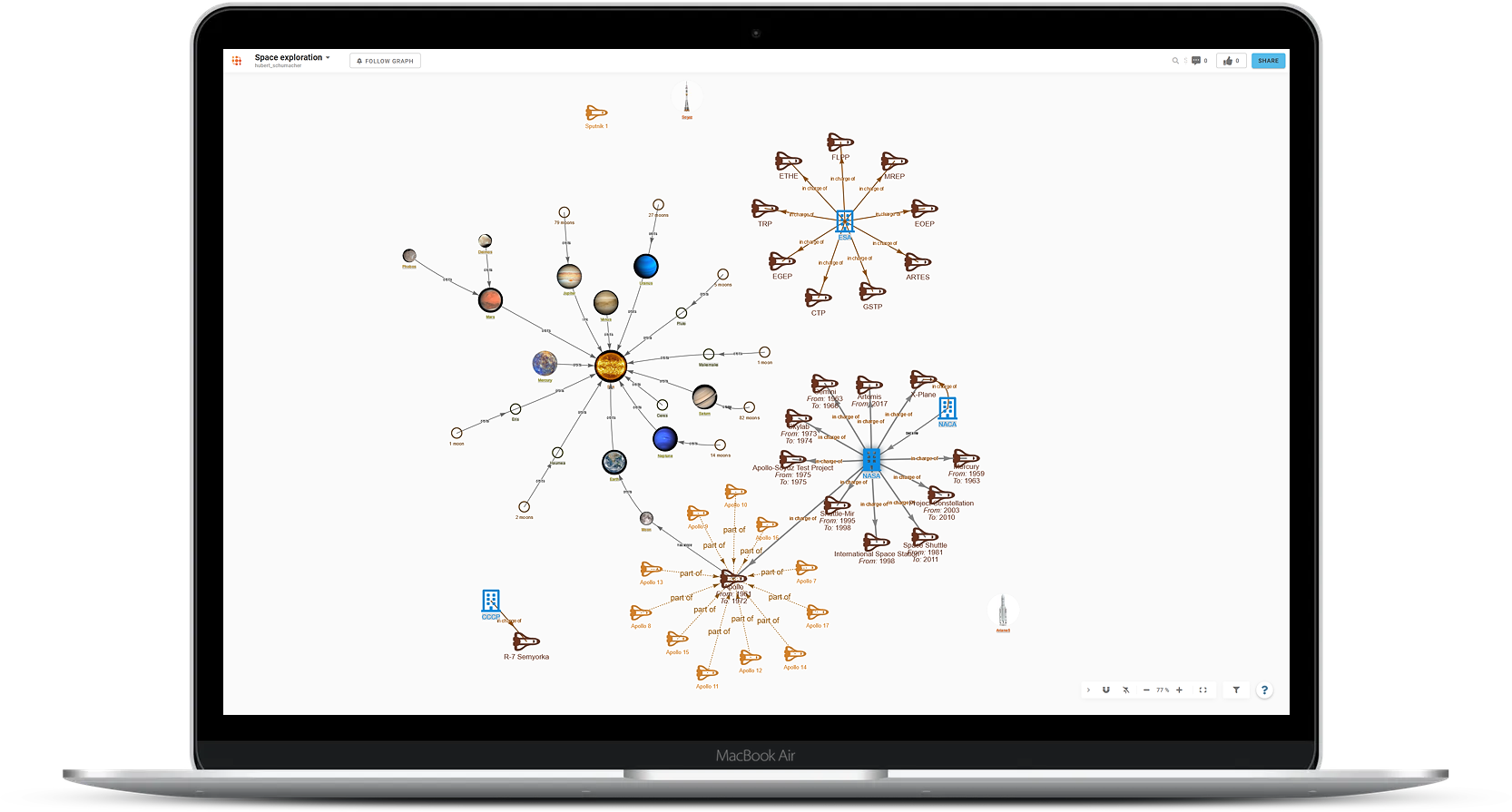 Perfect to Collaborate
LinkFacts lets you share your graphs with as many colleagues as you want and collaborate with them in real-time. Collaborators can quickly comment on topics, vote on ideas or discuss change.
Team
Bring everyone in your dispersed team into the same page. Share graphs with externals or clients. Invite colleagues to give feedback and contribute to your planning process.
Share
LinkFacts lets you share your graphs easily with people or on social media. Collaborate with friends or colleagues.
Explore & Search Information
With LinkFacts, you can navigate, manipulate and visually represent large collections of information and knowledge.
Map knowledge and information
LinkFacts is also a platform for people to share, collaborate and comment on each others' ideas. If you think about it, the whole world is a vast graph where everything can be connected to everything else.
Comment and vote on Ideas
Discuss and collaborate on individual ideas. This is a great way to get feedback, exchange views on topics.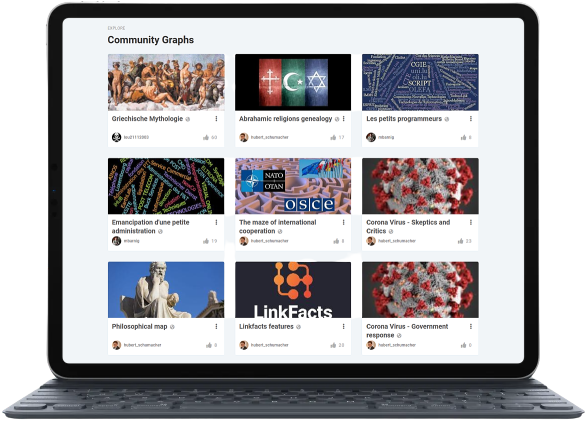 for who
Who could need LinkFacts
---
Students & Researchers
Improve note taking with pictures, links, and formatting. Use graphs as a tool for memorizing.
Creatives
Designers, writers and professionals can use graphs to brainstorm ideas and visualize thoughts.
Journalists
Create graphs of crowdsourced information or quotes from the web using this LinkFacts.
Writers
Use LinkFacts to arrange your ideas for an article or a book before you write.
Teachers
Present material in a more memorable format.Facilitate critical thinking. Apply collaborative learning in class.
Professionals
Creatives, managers, advisors, teachers, police & more could use LinkFacts in order to brainstorm ideas, create projects & share information.
Lawyers
Collect, organize and present information for a more effective way to prepare for depositions and get an overview of the most important aspects of a case.
Anybody
Anybody can use mind maps to unleash their creativity, solve problems, visualize their goals, and organize their thoughts!
Community graphs
---
Check out these charts that were created by people in the Linkfacts community.